Ventilation Guide - Why is air important?
Why is air important? A brief introduction to plant respiration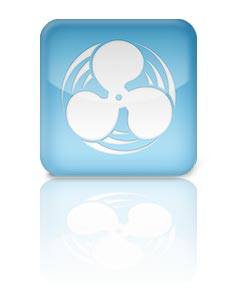 As everyone knows, plants produce oxygen (O₂). This happens as the plant filters carbon dioxide (CO₂) from the air and uses photosynthesis to separate the carbon (C) and use it to grow. The excess oxygen is released back into the environment.

Since this process requires light energy, it only takes place during the day; at night, the plant reverses its metabolism, consuming oxygen and producing CO₂.

For the gardener, this means that the plant must be adequately supplied with fresh air at all times, which normally contains both gases in sufficient quantities. If the plant can not breathe, it will not grow.
---
How does the air get to the leaf?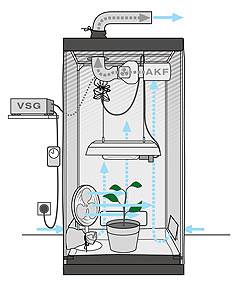 Creating an adequate air supply in the growroom can be a complicated matter; Not only does there need to be enough fresh air, it also needs to get to the plant. Temperature also plays an important role in optimal growth.

The matter is simpler when using a grow box. With a simple exhaust system, used and warm air is removed, while fresh air flows in. By their design, growboxes ensure a steady flow of air that constantly circulates around the plants. At the same time, this allows the temperature in a grow box to be efficiently regulated by controlling the fan power.

Depending on the type of plant, a recirculation fan can also be useful to provide even more uniform air distribution and stimulate the growth of strong stems.
---
Air cleaning and maintenance of the fan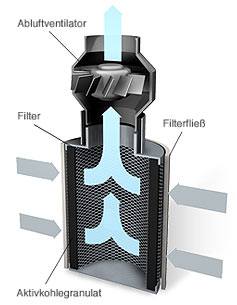 An important component in a good ventilation system is an activated carbon filter (ACF). Not only that it cleans the air of any annoying particles and odors from the growroom or growbox, it also extends the life of the exhaust fan, in which otherwise quickly collect dust and impurities.

With a connecting sleeve attached directly in front of the exhaust fan, the attracted air is passed through the filter flow and the activated carbon granules in the activated carbon filter and thereby freed from virtually all particles and odors.

In a normal environment and humidity, an activated-carbon-filter can be used for up to one year, after which (or when fan performance decreases) replacement is recommended.
---